Older people are suffering the ill effects of the cutbacks and they stand in solidarity with their children & grandchildren who are also suffering.
This is why the Irish Senior Citizens Parliament will proudly march alongside trade unions and other community groups before Budget 2013 on Saturday next to say "No to Austerity". We are asking all our members around the country to walk alongside us with dignity & respect to show the Coalition government that we have had enough of the recession, enough of the cuts to income and enough of the threats to the travel pass. The last Budget saw a vicious cut to the means tested fuel allowance thus increasing fuel poverty.
So walk alongside us … but wrap up warm with good shoes and scarves and gloves. This time however we want you to wear different shades of grey to symbolise the many hits we've taken. But we are not without hope – wear a sprig of green as well to show that we still have hope. And what about some "Greys in Shades" – wear some sunglasses as well.
Lastly what about some placards? We'll have some but we encourage you to make your own & bring them with you. Your own words are always best but here are some possible slogans you could have on your placards:
We've paid for our Pensions
For a proper health service
Keep Older People Warm & Mobile
Fair Pensions for all
For dignity & respect
For a better, fairer old age
A Fairer Ireland for Older People
HITS – Health, Income, Travel, Security
Hit the bankers – Not the pensioners
Bash Bankers – Not Pensioners
We all stand together
Hands off our Pensions
We've paid for our pass
No more austerity
Enough is Enough
No more cuts
We're all in it together
Why not just shoot us?
Never too old to suffer
No Country for Old Men … or Old Women
ISCP against the HITS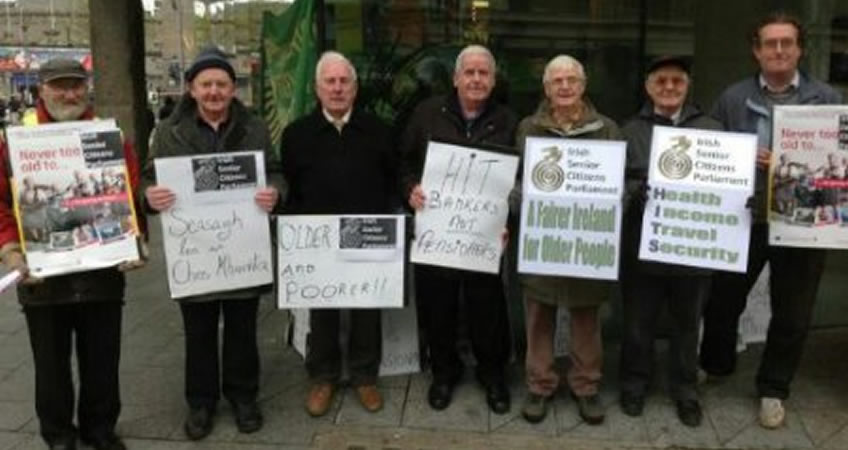 ISCP shows solidarity across the generations